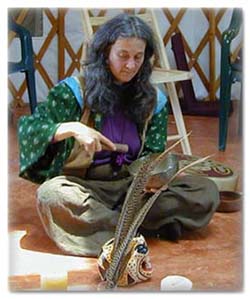 Testimonials
"Working with Susan Feinbloom has changed my life. I have studied with many gifted and talented teachers and healers and Susan is unparalleled in her gifts, abilities and skills. The breadth and depth of her knowledge in a multitude of modalities initially gave me the confidence to step into working with her and with practices I was unfamiliar with and uncertain of the outcomes. As soon as I began to work with Susan I came to trust her knowledge, instincts, guidance, and teachings completely. With Susan's teachings, meditations and guidance I uncovered and discovered myself in a way that I was totally unaware of previously which allowed me to heal a lifetime of pain, lies, hurt, blame, anger and resentment. This has freed me to step into my own life in a more powerful and loving way. Run don't walk to work with Susan Feinbloom as she is the real deal."
~ Mary MacDonald, Business Consultant and Coach

---
"I have worked with Susan for over twelve years. I have taken her clairvoyant class, advanced trans-medium class (for five years), shamanic visioning, her shamanic medicine wheel class series and do private sessions (twelve years plus). In all of the classes, Susan was able to create and hold a space of safety which allows students to deeply experience their own energy and wounding which brings about deep healing. Susan has a gentile and powerful way of moving with a person and a keen ability to see the commonly unseen. She has fined tuned her medicine to such a degree that when she is giving feedback she does it in such a way that it is always received. Working with Susan I have experienced huge levels of personal growth and healing. She has seen me through my biggest life challenges thus far. I have learned to trust myself and my connection to spirit. I hold her in the highest regard and completely recommend her!"
~ Anais Szabo, Co-founder of Ancestor Bridge, Shamanic Wisdom

---
"I have known Susan Feinbloom for approximately 17 years, and have extensive training with her in chakra healing and clairvoyance. I can attest to the great depth of her abilities as a clairvoyant, healer, and teacher and can assert that she is without a doubt, very gifted. I also have experience with her in several other healing modalities to varying degrees including psychic psychotherapy, transpersonal breath work, shamanism, homeopathy, and meditation. Her experiential understanding of these modalities and her practical hands on teaching techniques are exceptional.ÊShe is able to maintain for several hours a state of focused neutrality with a razor sharp clarity, and can hold a high vibrational space that is both supportive and validating, yet unobtrusive. She can perceive energy and spirit beings in a way that resonates deeply and is rather astounding.
As a result of working with her, I have become more aware of how I run energy in the body and the difference between my energy and invasive foreign energy, and how to own my psychic space, coming out of consensual reality and into my own higher truths. These tools have had a profound effect on my life and my ability to know who I am on a deeply personal and spiritual level.Ê Not only do I experience an increased clarity and capacity for manifesting my highest potential, but the work has also blessed me with a depth of happiness and playfulness that I have always longed for. My journey with her has been a powerful spiritual and creative process, and irrevocably life changing. I am honored to have the opportunity to work with her."

---
~ Alexandria Lopez, MSW
Dear Susan,
I wanted to thank you deeply for your creation of such a beautiful energetic space in which I could meet so many dear beings in the spirit world. It was a very powerful process. I felt so profoundly met, both by you and by the souls I spoke with. You have a real gift as an intermediary between this world and the next.
~ In appreciation,
L.B.